Cancelling recurring payments in PayPal can mean a long time finding the right way. PayPal changes their dashboard and account settings regularly and certainly don't make cancelling these payments easy.
Signing up for subscriptions with a merchant through PayPal is a fairly common experience for many business and agency owners. The problem is that PayPal changes their dashboard and settings but their knowledge base and support pages don't get updated. A great example of this is their current help page for cancelling or updating recurring subscriptions. (Source: https://www.paypal.com/au/smarthelp/article/how-do-i-cancel-an-automatic-payment-i-have-with-a-merchant-faq2058?app=searchAutoComplete)
The following info is incorrect!
How do I cancel an automatic payment I have with a merchant?
To cancel an automatic payment with a merchant:
Go to Settings.
Click My money.
Under 'Automatic payments', click Manage Automatic Payments.
Select the payment you'd like to cancel, then click Cancel.
Note: Cancelling a subscription cancels all future scheduled payments of that subscription. A subscription can be cancelled up until the day before the next scheduled payment in order for you not to be charged.
This is What Really Works to Cancel Recurring Payments in PayPal:
click your name in top right
select Account Settings
Under Solutions and Services select: Website Payments
At the top of Website Payments click "Update" for My Automatic Payments (see screenshot below)
don't bother searching for "Manage Automatic Payments" or "Automatic Payments"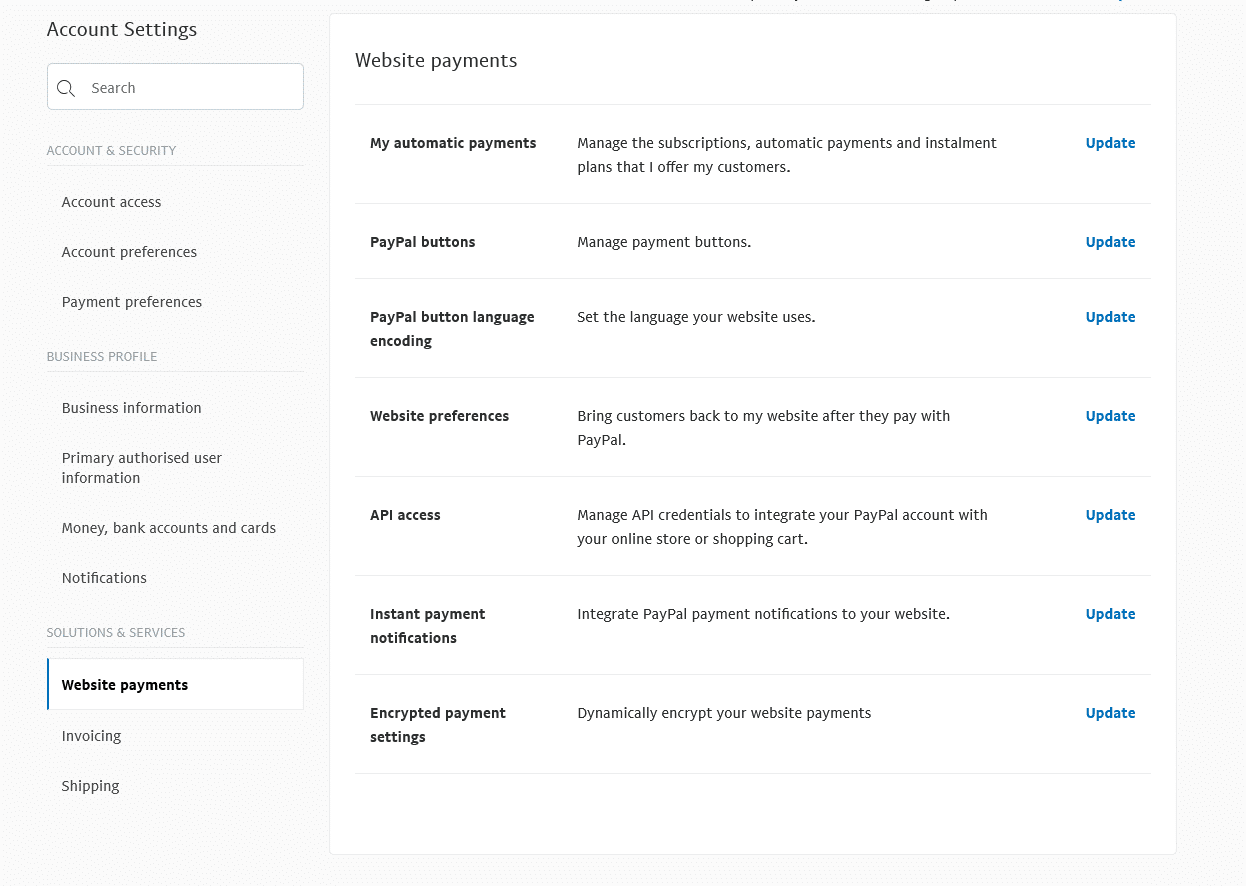 My Automatic Payments Takes You to:
recurring payments dashboard
if your payment isn't in this page or section you need to click on the small hyperlink above the Overview that says:
My pre-approved payments page

My Pre-Approved Payments Page:
this is for subscriptions that are usually from sites like JVZoo or PayDotCom type payment processors

This should help you find your pre-approved payments to find out which ones are active, which ones you might want to cancel or update.
If you need more help with website payments, setting up recurring subscriptions or memberships on your website, get in touch with us.