Ideas That Businesses Can Use On Their Twitter Accounts to Try to Go Viral – In A Positive Way
Twitter is a very influential social medium. If you want your business to gain maximum exposure, you should use Twitter to publish. The platform is like a goldmine for businesses and web publishers. Twitter Ads also have the potential to earn you more leads if you can maneuver around creatively. The best thing about sponsored tweets is that you can sell almost anything.
Consider the example of this brand (their name is quirky enough) called 'Poo-Pourri'- they sell bathroom deodorizers. After a winning viral spree on YouTube using ads, the brand turned to Twitter. Thanks to the organic audience earned through that viral video, they brought a lot of those followers on Twitter. Since the brand was already popular for its humor, they knew Twitter's audience would be ideal for their comedic style.
Poo-Pourri posted a range of tweets using powerful and funny images which were sponsored to reach a targeted audience and their followers during holiday season. The results were astonishing. 93% of their sales were made to new users via Twitter and they had a 50% increase in basket size. They kept in mind how Twitter works, so a smaller follower base didn't matter, as long as their targeting was on point.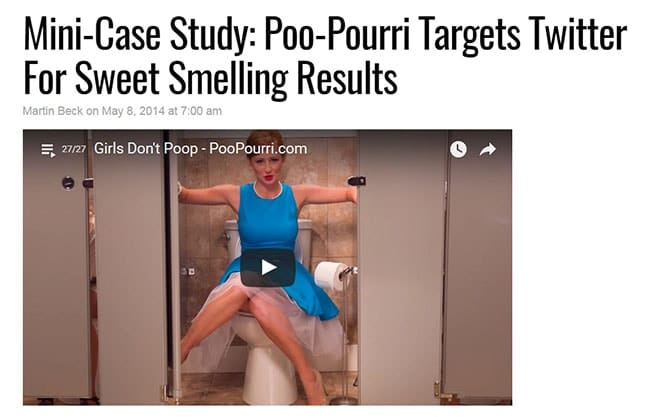 Twitter is changing the way information is spread online. Previously, bloggers shared or emailed their links. Now, they prefer to tweet those links. Even though the microblogging service only allows 140 characters to be written in one tweet, brands have successfully found ways to get their message across. Recently, Twitter updated the posting limit and images are exempted from that. This is great news for marketers. You can now use great visuals combined in your ads and target a specific audience.
Take a look at some of these tips to go viral on Twitter:
Use Calls to Action
People don't know what to do with your tweets after they have read them. You can go ahead and ask them to do what you want them to do. In my experience, some of the most popular tweets revolve around the basic statement of "Please Retweet".
Be it a social cause or something making trends on Twitter, if you write 'Please retweet this', chances are that you will get retweeted. It shows urgency and it is the most common Call to Action for your tweets.
Other Calls to Action include words like 'Check this out', 'You will be amazed', 'Follow this account', '#Help' or a question like 'What do you think is…'.
According to this research, retweets have a direct relation with social proof:
"What this may indicate is that social proof (or imitation more specifically) plays a role in a user's decision to ReTweet. The more users on Twitter see ReTweet something, the more likely they are themselves to ReTweet it. Another factor in the decision to ReTweet is associated with 'please', when the act of ReTweeting is called to a user's attention, they may be more likely to ReTweet.
Consider The Right Time For a Tweet To Go Viral
The most important factor that helps in tweets going viral is timing of those tweets or ads. Twitter is so fast-paced that a tweet made 10 minutes ago may get lost in the abyss. You need to understand when your target audience is online and which peak hour of the day is best for you.
There is a window of time during which people tweet or retweet stuff more often. Maybe your target audience interacts with tweets more during the first few days of the week, compared to other days. The time of the tweet is also crucial, like post lunch time or in the evening maybe when your target audience is more likely to be online. Buffer compiled a list of important stats related to the perfect tweeting time:
• Twitter engagement for brands is 17% higher on weekends according to Dan Zarrella's research.
• There are lots of Twitter users who primarily use a mobile device—rarely loading up Twitter on their desktops. Twitter did an interesting study of these users and found that they are 181% more likely to be on Twitter during their commute.
• They're also 119% more likely to use Twitter during school or work hours.
• For more details on the latest Twitter stats and Twitter statistics, check out this Twitter guide.
Visual Content for Twitter Marketing
Not all companies like using videos in their ads, since it can be a very risky move. Luckily, the platform allows you to test and choose what suits your campaign better. The British Heart Foundation (BHF) used Twitter ads and a video to go viral with their cause. In their viral video, BHF had a simple motive, to raise awareness about doing CPR. Normally, nonprofits can easily go to TV for this purpose, but BHF chose Twitter to raise awareness. The video was so effective that it got 1.7 million views. Take a look at this video, it's really well-done.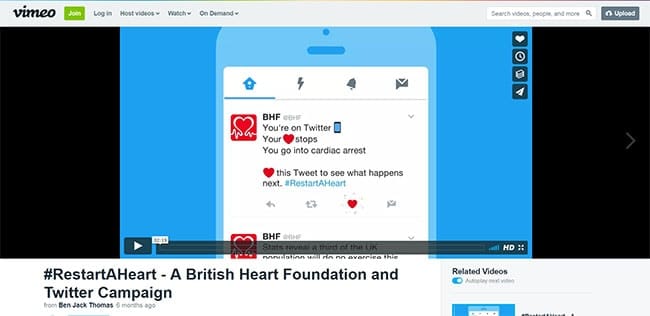 Not only was the video entertaining, the ad was also written well with a hashtag of the campaign, called #hardandfast. Later on, people replied to BHF and told stories about how they saved a life using the CPR method.
It takes planning and careful analysis to create content which resonates with people. Nonprofits have it even harder, since many people tend to ignore their messages. If you want your brand to go viral on Twitter and increase traffic, consider creating powerful stories through short videos and promote them using location targeting and hashtags.
Twitter #hashtags are where any brand message can be indexed and compiled. If you really want your brand to be heard and seen on Twitter, build a unique hashtag for your campaign or brand and make sure you use it often. Sometimes, hashtags can trend on an organic basis, while other times you may need help from influencers within your niche.
Key Twitter Marketing Takeaways
Every social media expert will ask you to pay attention to content and plan it well in order to be popular on social media. However, in order to go viral, you need to combine some other factors with great content.
The timing of your tweet, the season, the trend and ongoing conversation is very necessary to keep an eye on. Twitter trends can be as short lived as an hour and can stretch to a few days at max, and your business should be able to act at a moment's notice and cash the opportunity. The more relevance you bring to your tweet, the more people will like it. The more people will retweet it, the more social proof it will attach to the tweet. Follow these simple steps to create a viral campaign on this powerful social medium.
AUTHOR BIO
ABOUT Erica Silva
Erica Silva is a blogger by choice. She loves to discover the world around her. She likes to share her discoveries, experiences and express herself through her blogs. Currently, she is associated with Airg Team for development work. Check out her firm's performance reviews.
Find her on Twitter:@ericadsilva1