This is a hard one. Google used to only display reviews when you had more than 5. They are now mostly displaying any number of reviews, even a single, one star review. Now, more than ever, you need a Google review builder system to control your online reputation.
As you would know from your own searches, if you see a listing with 45 x 5 star reviews and another one with 0 reviews, it's a no-brainer who you'll go with.
BrightLocal's 2016 Local Consumer Review Survey found that 84% of consumers trusted online reviews as much as word of mouth recommendations. This is significant and means your bottom line is directly affected by your review count and rating.
But how do you get these Google reviews and who do you ask for them?
It's not the easiest process.
First, you need to make sure you have claimed your Google My Business listing (see below). Then you need to know how to create a Google Review link for your Google My Business (maps) listing. Once you have done both of those, you need to explain to your customers and clients how to actually leave the review.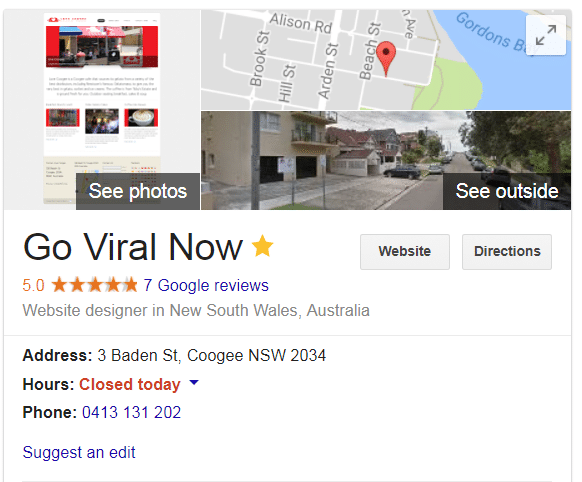 It's not easy but with the following information, it can be done. And it's definitely worth it. If you're not getting regular, positive reviews on Google, your business is giving money away to your competitors who do have these public recommendations.
Are Website Testimonials Enough?
You might be wondering why the testimonials on your website aren't enough. The fact is that there have been so many spammy businesses over the years that have paid for or made up testimonials on their website that these are just not trusted as much as a Google review.
Of course, it's possible to make up Google reviews but it's much harder and Google has very clever algorithms that will often pick out fake reviews. This can damage your business a lot more than benefit it.
Asking a Customer for a Review
Many businesses worry about asking their customers for a review because they aren't sure if it's ok to do this or they're not 100% sure of the rating they will receive. As a result, they only ask a select few, lessening their chances of gaining lots of positive reviews.
Unfortunately, it's often the case that people will be more motivated to leave a negative review than a positive one. This makes it even more important to make the process of leaving a review as simple as possible.
Providing an Easy Way to Leave a Review
Just asking for a review without providing an easy way to do this, can end up getting you nowhere. I have so many clients who say they've asked many of their customers and clients only to have no reviews in the end.
Providing a link directly to your review page on Google is a great start. An even better method is to use a review builder program that manages both positive and negative reviews.
Introducing the Google Review Builder System
Our Google review builder system sends 4 and 5 star reviews to Google to be displayed publicly and 1 – 3 star reviews are kept private. However, customers who have left a 1- 3 star rating are given the opportunity to discuss their issues and you are able to deal with the feedback out of the public eye. This helps with customer service and can turn a negative experience into a positive and a lifelong customer.
Google reviews are now part of the Google search process and most consumers now take these into consideration in their buying decisions. This means that having negative or no reviews will affect your bottom line.
Google only displays 3 business listings in their local 3 pack (the maps listing when you do a local search such as: "dentist Sydney". Having lots of positive reviews can affect whether you are displayed on the first page or further back in the search results.
It's impossible not to be drawn to the listings with lots of yellow star ratings. They jump out at you and give the business an element of trust. This is particularly the case if they have more than 5 reviews. If your competitors have 10 x 4.5 star reviews, you need to get 11 x 4.5 star reviews to compete.
These maps listings show people a link to your website, directions to your office or store and your reviews. They can also help your SEO.
Claim Your Google Listing:
If you've already claimed or listed and verified your business in Google My Business, well done and no need to read this section. If you haven't verified and claimed your listing, do it now. Or get someone like Go Viral Now to do it for you. It's vital to getting those reviews and being able to reply and control the information about your business.
Do a search for your business' name on Google. Look on the right hand side and see if there is a maps listing. If it says: "Own this business?", you haven't yet claimed your business and you just need to click that link, login to Google/Gmail and fill in your whole profile. Once you have filled it in, provide your address (this can be kept private if preferred – just say that you only see clients at their place – but you need to provide it so that you can verify your listing. Google will send a post card with a code to your address.
Verifying Your Google Listing
You will fill in the code to verify your listing.
If you don't see your business name or listing, go to Google Maps and do another search. If you don't see your business name, click "no, these are not my businesses or I've correctly entered the business" and provide your correct address and other details.
Make sure it's all correct and give a phone number that exists and, preferably, is on your website.
Now you have to wait for 3 – 14 days to receive your post card with verification code. Log back into Google My Business and type in the code to verify.
Fill out your Google My Business. This information must be the same as is on your website and your other online listings (like Yellow Pages, True Local, White Pages etc).
A properly filled out Google My Business listing will bring in leads and provide insights into how many calls and views of your listing you have had.
Add photos to your listing and try to tag your photos with your location and main keywords (eg. Bondi builder, Bondi residential builder etc). This helps Google know where you operate and will help your SEO.
Getting Reviews:
Google recommends sending your customers to Google Maps and ask them to type in your business name and location/suburb.
Tell them to select your listing and when they see the card on the side, scroll down to where it says: "Write a Review".
They will have to login to Google/Gmail account before leaving a review.
There are also online Google Maps review generators you can use to get a link directly to your review page. For this I recommend going to WhiteSpark and use their review builder link generator.
Once a customer/client signs into Google, they can leave a rating (1 – 5 stars) and a review.
How Do You Make Sure Only 4 & 5 Star Reviews Go Public?
Use our Google Review Builder program. This program lets you send a link to every single customer, massively increasing the number of positive reviews you can display. If a customer has had a negative experience, you can deal with the issue privately. This will also give you an insight into customer service so that you can train staff on the front lines using this feedback.
Watch the video below to see how the review builder system works: