This Ebook cover article has been one of my most popular and as a result, I have regularly updated it with newer and more updated tools.
I've also discovered a range of other tools that make creating an ebook and an ebook cover even easier. One of these tools is Milanote. Milanote is a gorgeous productivity tool that incorporates templates you can use to easily make a start or just create your own. You can use boards, mind maps and more. If you have trouble thinking of ways to use Milanote, they sure give you a lot of ideas.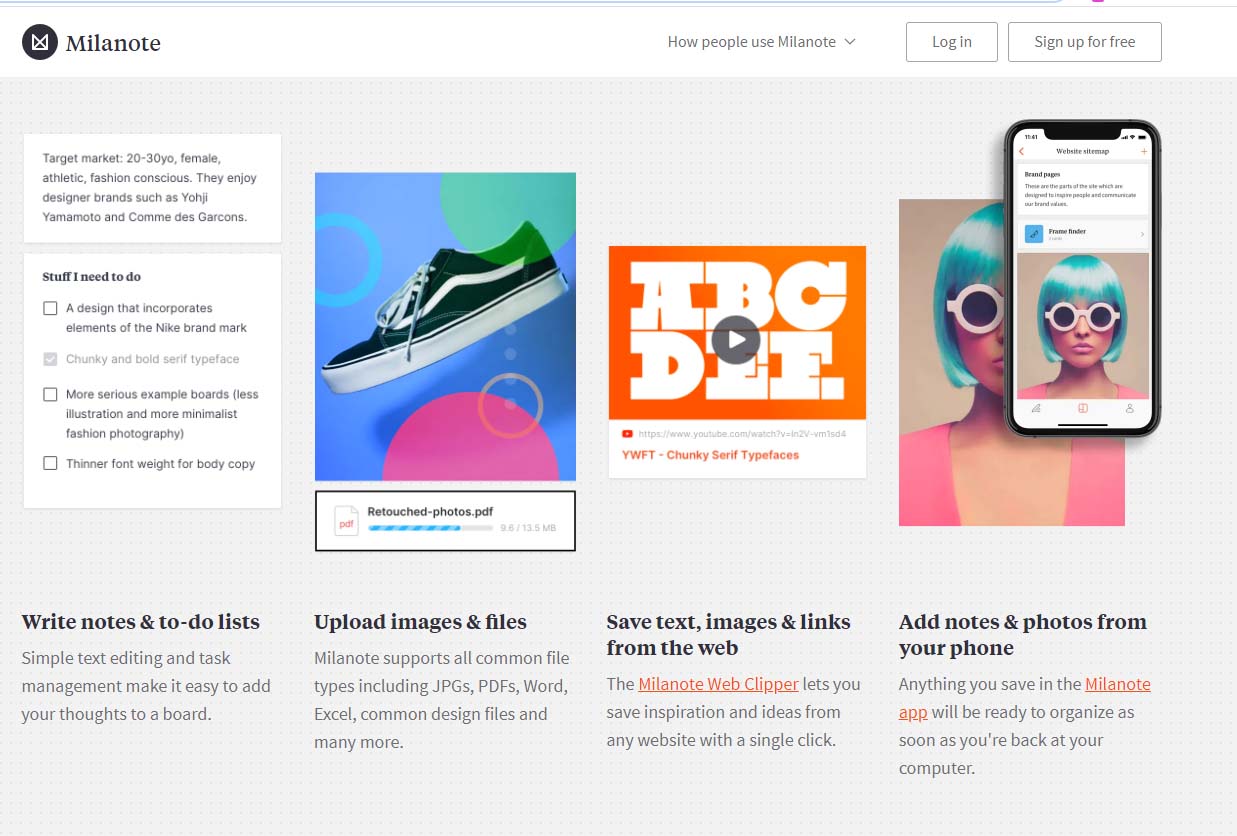 There is a big list of the types of people and companies that use Milanote and what they use it for. This includes the following as part of the Creative Process:
Moodboarding
Brainstorming
Storyboarding
Creative writing
Design collaboration
Creative briefs
Productivity
Note-taking
Project management
Mind-mapping
Whiteboarding
Remote working
and if that's not enough, then I'm sure you'll find a few more ways to make the most of Milanote.
How I Use Milanote for Ebook Cover Creation
I love the boards and how visual you can be. I like to start off with a visual mood board with lots of images and ideas. Then I like to play around with designs and ideas from within Milanote and I'll even throw in videos, audio and anything that gets the creative juices flowing. It's fantastic to be able to comment and get feedback on the designs before going ahead. Milanote works great for teams and I'm starting to use it more than other productivity tools such as Trello and Asana because  it is so beautifully visual.
Other Ebook Cover Tools I Love
One incredible, and free, tool that I highly recommend is Canva. I use them for a lot of different creative designs. From Facebook ads, to FB cover images right through to logo design and memes for social media posts, they offer a huge range of fantastic options to make your creatives pop. But one of their other awesome tools is their free ebook templates.
What I love about Canva is the really gorgeous and high quality style of their designs. If you can't find a template that will get your creative juices flowing, then I'd be checking the flavour of your juice, not the Canva platform 😉 Seriously, they have a huge range of choices and a search function that allows you to search up to 50,000 templates.
I have to say that the Canva offerings are probably the highest quality of all the ebook cover creators. These templates are really professional looking designs and clearly have been created by experts. Have a scroll through the choices, even on the homepage, you'll be pleasantly surprised.
The thing I like the most about Canva is how easy they make it for you to save your designs and upload your own images to your library. Just register and then login every time. They give a huge amount for free users but premium subscribers get some pretty amazing extras so you may decide it's worth signing up for a membership. Either way, I'm sure you'll find something you like on Canva.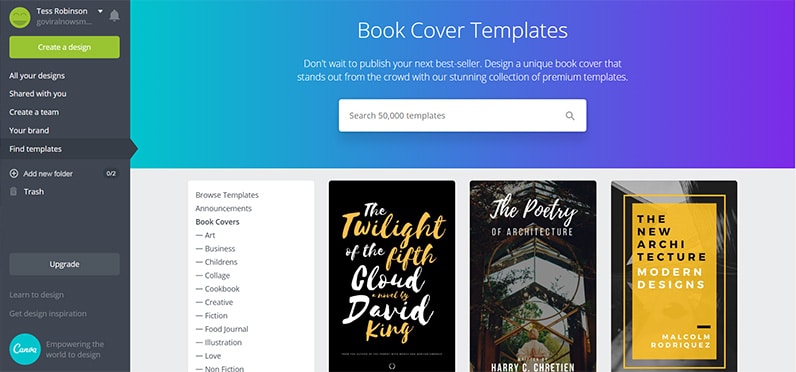 Below are some other ebook cover makers for creating ecovers online for free. These ebook cover makers are an assortment of downloadable freeware and online services.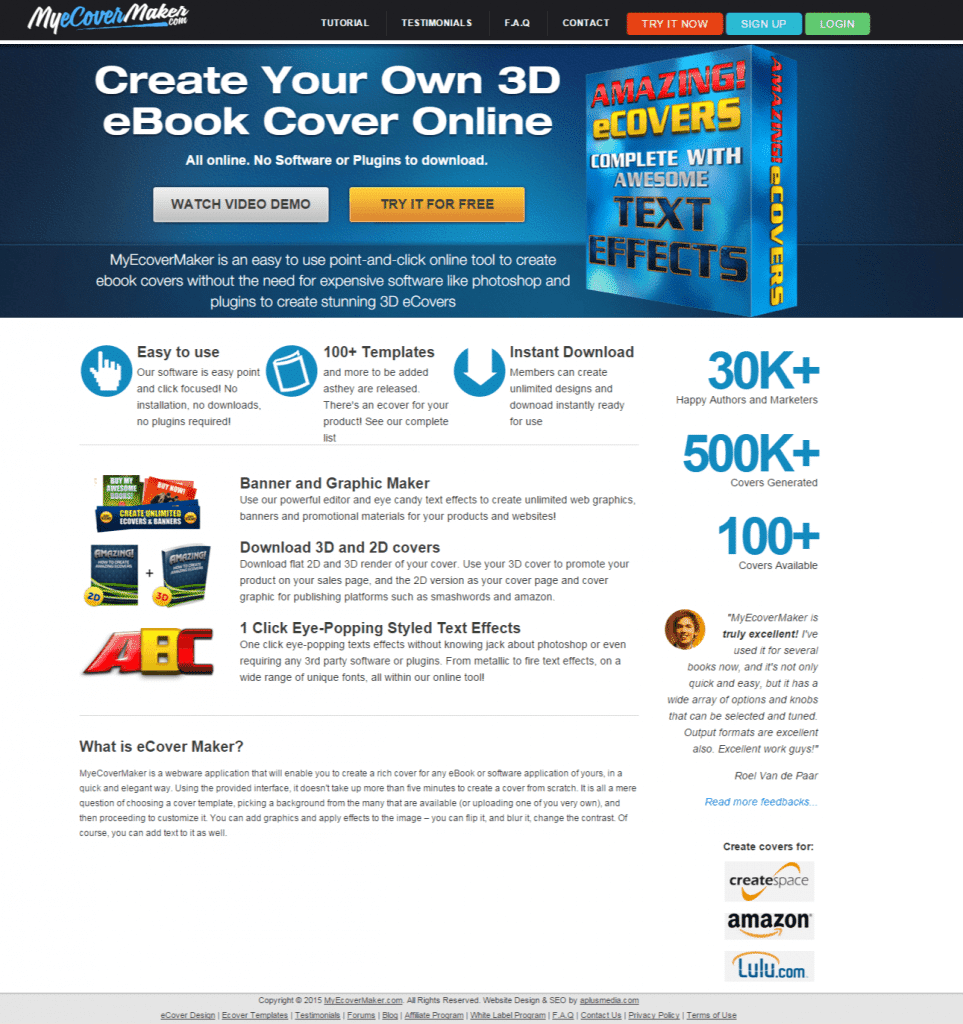 This is one I have used many times before as it really is so easy to create ebook covers online – and free. While there is a premium option that includes extra templates and covers, I have found that the free options are usually sufficient for my needs. If you need something a bit more professional, it might be worth checking out the premium version.
This is a very easy to use maker and has plenty of backgrounds, templates, icons and other features that will make your ebook cover eye poppingly gorgeous.
2.      Adazing:
This is another simple, free, online webware that allows you to create an ebook cover (hard or soft) and a CD/DVD cover. I managed to throw one together in about 3 minutes maximum.
It really doesn't get much simpler than this program. It is an easy 3 steps, but you will need to have your ecover artwork already done. This program doesn't offer premade templates or any design elements to help you create your image. It will just allow you to turn your 2D image into a 3D ebook cover for use online. However, particularly if you already have a 2D book cover artwork, this is an extremely easy option.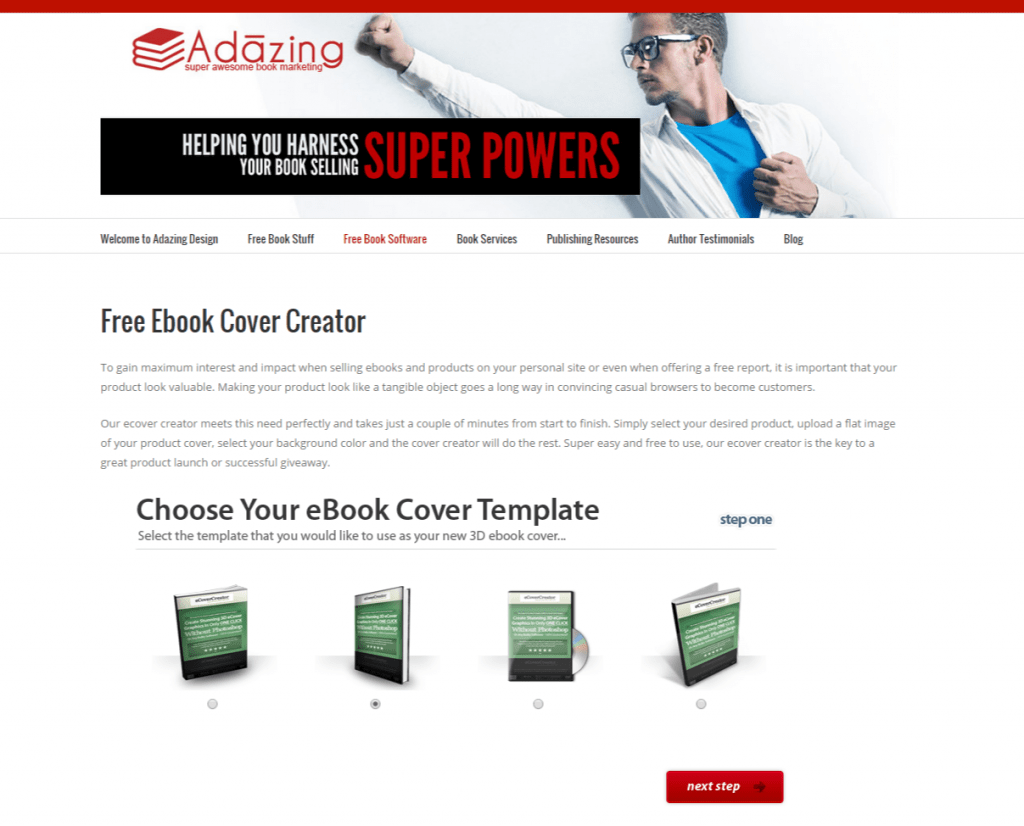 3.        EbookMaestro:  This program has several options:  free, standard and pro.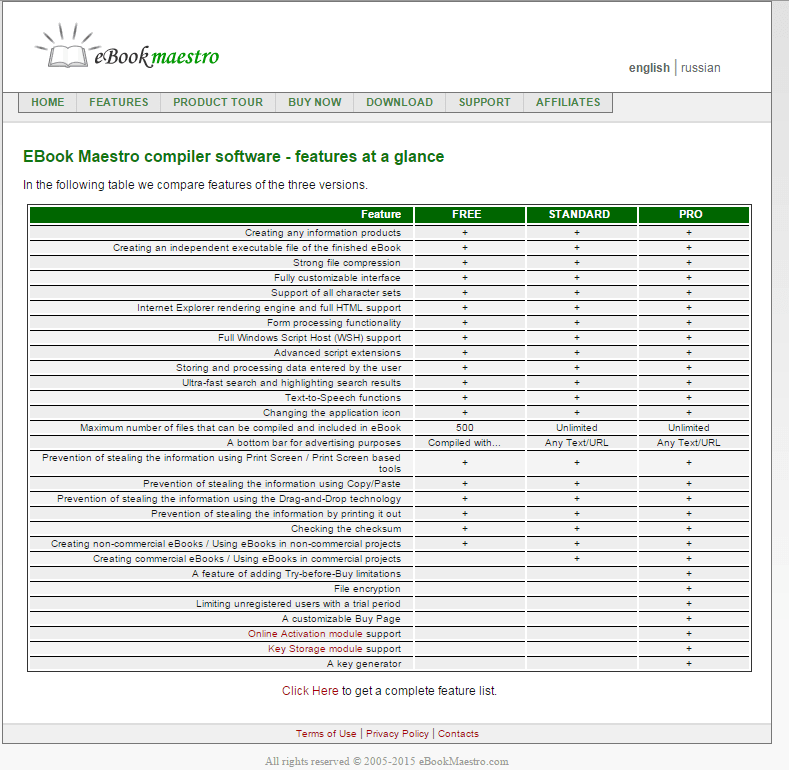 a.       EbookMaestro is more than just an ebook cover creator. It also helps you to create your ebooks and even has wizards to assist you to turn a web page into an ebook. According to the website, the software allows a user to compile the following products:
–          eBooks,
–          Presentations,
–          Magazines,
–          Albums,
–          Galleries,
–          Guides,
–          Offline Sites,
–          Reports,
–          Documentations,
–          Training Courses,
–          Educational Materials,
–          Tests,
–          Quizzes,
–          Software Wizards
Ebooks created with EbookMaestro support all character sets and can contain and open any files including:
–          HTML pages
–          Graphic files
–          Flash files
–          Java scripts
–          VB scripts
–          Styles sheets
–          Sound Files
–          Video Files
They also offer templates for those who are less comfortable with designing their own ebook cover.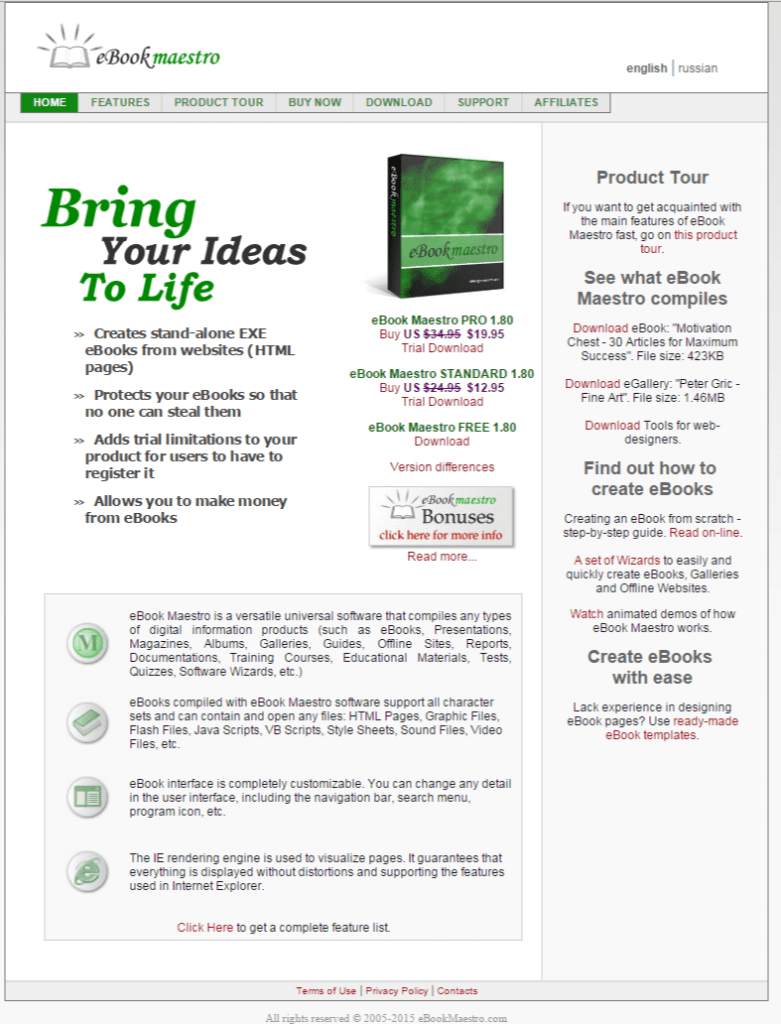 Download a Step by Step Tutorial to Create Your Own Ebook cover Using Free Ecover Generators. Just tweet this post.
4.        CoverFactory:  This is not one I've tried as it requires a download to my pc and I just haven't needed to do this with all of the alternatives that are web based. However, there are plenty of people who don't have Wi-Fi or prefer to use software downloaded to their computer so I wanted to include a couple of free options for you to consider.
The publishers state that it delivers 3D ebooks and box covers with only a few clicks. From the instructions, it certainly does seem like it would be simple to use.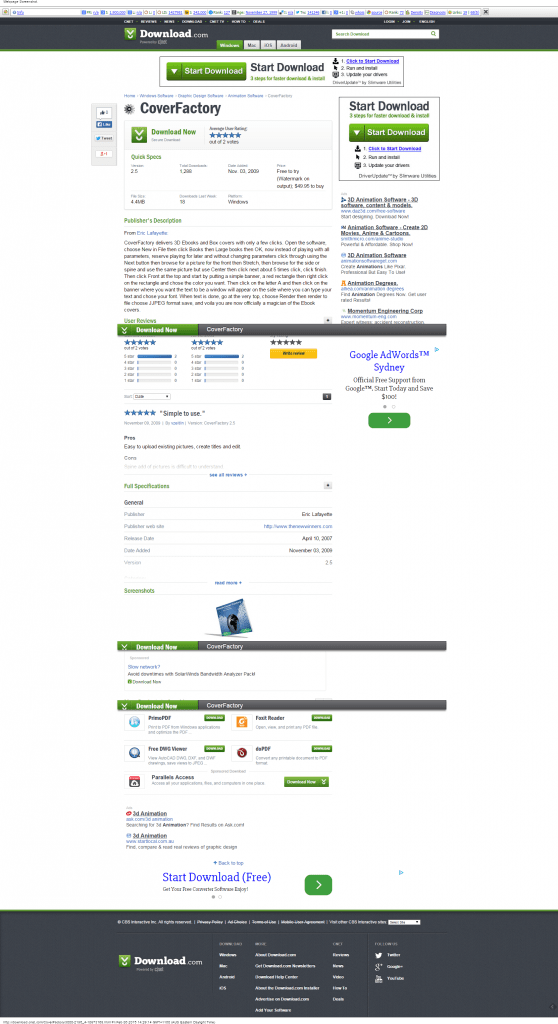 5.     Quick 3D Cover – This program is not available except through archive but it has had good reviews so I have included it here. It allows you to create software boxshots, books, CDs and DVD covers. Here is a screenshot of the program and it certainly sounds very simple to use. It also includes more than 100 manually drawn templates.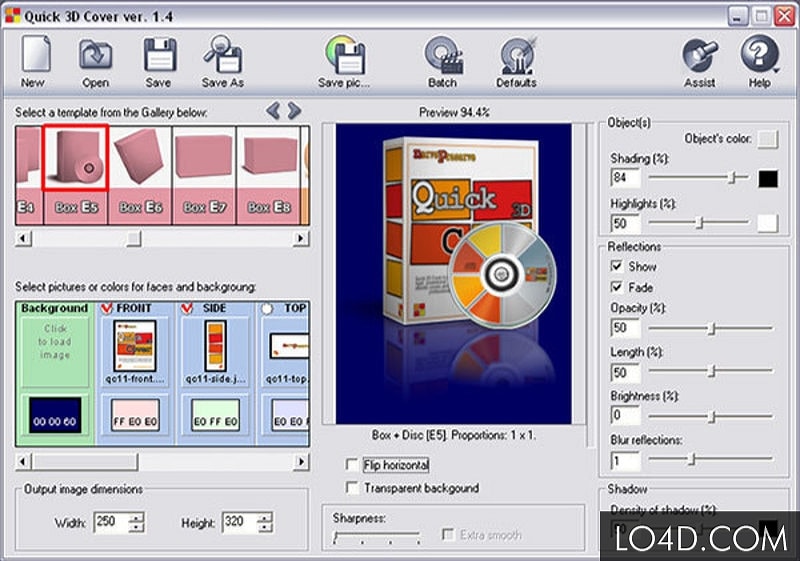 Again, you will need your image to be already created. If you don't have Photoshop or Paint to put your image together, you can try a free online graphics program like Pixlr.com that allows you to create graphics like in Photoshop (although it's a more basic program with a faster learning curve).
The publishers say:
"Quick 3D Cover makes professional illustrations of software boxshots, books, CDs and DVD covers and more. It's a quick, simple, effective tool. Quick 3D Cover includes more than 100 manually drawn templates. It easily embeds your own artwork into the templates. Quick 3D Cover naturally repeats the steps of a professional artist, drawing illustrations by hand with professional graphical software such as Adobe Photoshop."
Beware: this shareware's publisher and the product don't actually exist any longer and so are not updated. The copy here is from an archive and is, therefore, outdated. So, try at your own risk!
When you download the bonus tutorial, I've included a 3rd ecover maker that isn't in this post. I've saved one of my favorites for those who share this post to help you create ecover makers quickly and easily.
Download a Step by Step Tutorial to Create Your Own Ebook cover Using Free Ecover Generators. Just tweet this post.
Here are some covers I've made with this free online program that is included in the free download.
Download a Step by Step Tutorial to Create Your Own Ebook cover Using Free Ecover Generators. Just tweet this post.
6. Snappa: Snappa offers a free ebook cover creator that is very easy to use. You just need to sign up for an account and then they let you loose with their templates and other awesome tools. If you're after something a bit different, give Snappa a try. They have a great, short tutorial that gets you started immediately. You can use one of their templates or just create your own. I recommend starting with a template and then playing around with it to make it your own. You'll quickly discover, that, like Canva, Snappa offers a wide range of different options for creating social media covers, thumbnails and more. It's definitely worth a look.