The image below will show you what steps to tell your customers to take to leave a Google review on your Google local page.
To get your Google Maps URL, go to:
https://maps.google.com.au/ (or https://maps.google.com/ if outside Australia)
conduct a search for your business name.
click on your business name
record your maps URL
provide URL and tell people to scroll down to "Write a Review"
click on "Write a Review" and leave review (if logged into Google. If not logged in, they will be required to login first before leaving their review.)
How to Leave a Review on Desktop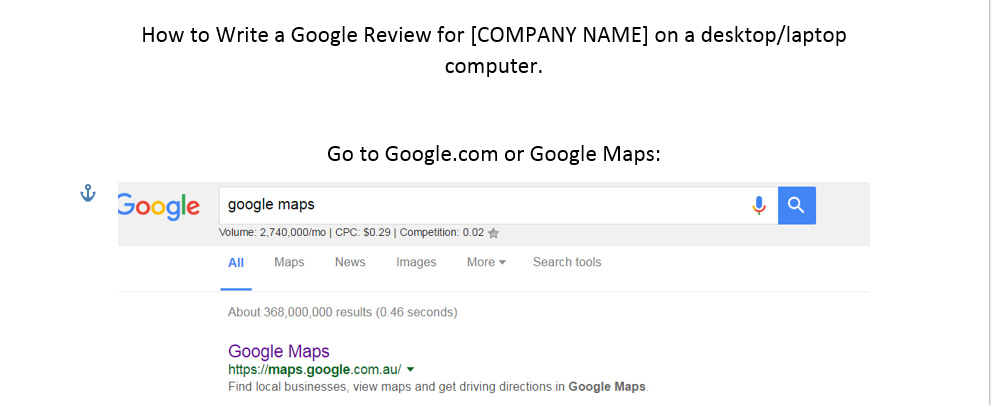 How to Write a Review on Mobile Devices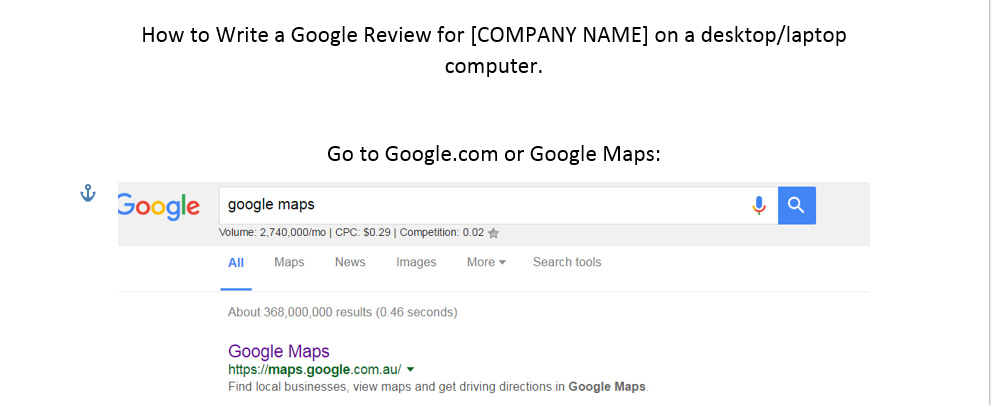 No time to create your review info sheet and find your URL? Let us do it for you! Personalised and branded review sheets with your company's Google My Business URL. We will provide you with both the long and short URL's.
It's only AU$17 to get us to do this for you and you will have it within 24 hours. We also include some great tips for getting more positive reviews.
Make your payment to PayPal and fill in the form below using your PayPal email address. We will send your Google Review sheet to your PayPal email address within 24 hours. Then watch the reviews roll in and see how that increases your bottom line.
Leave your business name in the message section. If we have any questions we will get back to you asap.
AU$17 for a personalised review sheet. Fill in the form with your details below.

[contact-form-7 id="29275″ title="Google Review Sheete"]